2016 Spring Experiment (EWP 2016)
The Experimental Warning Program is a part of the NOAA Hazardous Weather Testbed (HWT) at the National Weather Center (NWC) in Norman, Oklahoma. The HWT EWP mission is to improve the nation's hazardous weather warning services by bringing together forecasters, researchers, trainers, technology specialists, and other stakeholders to test and evaluate new techniques, applications, observing platforms, and technologies.
The annual Spring Experiment provides forecasters with a first-hand look at the latest research concepts and products, and immerses research scientists in the challenges, needs, and constraints of front-line forecasters. The EWP helps transition severe weather research and technology to improve the Weather Forecast Office's severe weather warnings for hail, wind and tornadoes. The EWP tests research concepts and technology specifically aimed at short-fused warnings of severe convective weather.
Past EWP Spring Experiments : 2014 · 2013 · 2012 · 2011 · 2010 · 2009 · 2008
National Weather Association Webinar: Preliminary Findings and Results From the 2013 Spring Experiments
EWP Summaries: 2012 · 2011 · 2010 · 2009 · 2008
EWP Research Projects
Experimental Platforms
Initial testing of new platforms for severe weather warning applications is a critical part of the EWP SE. Forecasters, trainers, and applications developers join researchers to discuss the output from these sensors in real-time during events and in case-study mode. The following are the technologies routinely evaluated during the Spring Experiment:
New Warning Techniques
The Probabilistic Hazard Information (PHI) experiment is designed to assess the concept of rapidly-updating high resolution gridded probabilistic hazard information as the basis for next-generation severe weather warnings.
Enhanced Warning Guidance
Multi-Radar/Multi-Sensor (MRMS) system has automatically integrates data streams from multiple radars, surface and upper air observations, lightning detection systems, and satellite and forecast models.
Improved verification
The Severe Hail Verification Experiment (SHAVE) collects ground validation information on hail swaths, damage from wind and tornadoes, and flooding at very high resolution. This effort enhances the climatological database and provides a validation source for higher-resolution warning guidance tools and applications.
NSSL's On Demand Severe Weather Verification system, part of NSSL's Warning Decision Support System - Integrated Information (WDSS-II) Multi-radar/Multi Sensor (MRMS) platform, is a web-based tool that can be used to help confirm when and where severe weather occurred.
Interdisciplinary Research
Social scientists integrate societal impact research to make sure the transition to operations is even more socially relevant.
The EWP hosted an Advanced Weather and Society Integrated Studies (WAS*IS) workshop in September 2008. This workshop was designed to bring together research meteorologists with a group of stakeholders representing a diverse user community, to integrate societal impact research at the beginning stages of the development of the PHI experiment.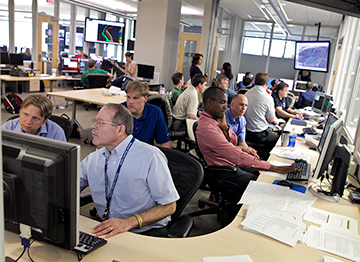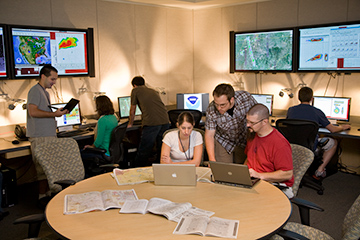 Facilities
The EWP is comprised of two main work areas in the NWC. The first area is the HWT Operations Area which is a room located between the forecast operations areas of the Norman, OK NOAA/NWS Weather Forecast Office and the NOAA/NWS Storm Prediction Center. This room is equipped with a variety of technology to support real-time experiments with visiting forecasters and researchers. The HWT "Spring Experiments" for both the EWP and the Experiment Forecast Program (EFP) are conducted in this room.
The EWP also has a "development lab" space at the NWC. Managed by the Warning Research and Development Division of the National Severe Storms Laboratory, the development lab includes four wall-mounted plasma screen displays and enough space for at least 10 workstations. The EWP uses Linux-based and Windows-based workstations for development and display of unique applications for improvement of hazardous weather warnings.
These two areas allow collaboration among researchers, forecasters, and developers. As new techniques are developed, these groups can gather and evaluate them in real-time, discussing how they can be improved and used in operations. Feedback from operational users can go immediately back into the research and development process, speeding up and improving technology transfer.
The EWP has an NWS Advanced Weather Interactive Processing System 2 (AWIPS2) available for product evaluation. This allows the EWP to demonstrate warning products and techniques that will be available in the NWS Forecast Office of the future.
For more information about the Experimental Warning Program, contact Gabe Garfield.